LEAD WOOL
Lead Wool is formed from finely extruded strands of pure lead. Properly packed, lead wool makes a tighter and more flexible joint than a cast joint. It can be used underwater, or in wet locations, or on joints to pour with less chance of injury to the caster. Lead wool is ideal for use in wool blankets for shielding purposes.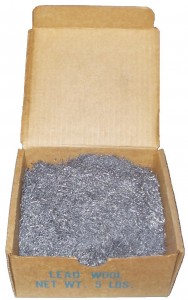 LEAD IMPRESSION WIRE
Effective for measuring the clearance of a wide variety of bearings which include automotive and machine bearings, marine drive-shaft bearings, turbine housing bearings, pump and pressure system bearings, shaft end-float dimensions, flatness and clearance in pipe-flanges and cylinder heads, etc.
| | | | |
| --- | --- | --- | --- |
| Diameter | 1/32" | 1/16" | 3/32" |
| Decimal | .032" | .062" | .093" |
| Apprx Feet/Lb | 245 | 66 | 30 |
Impression Wire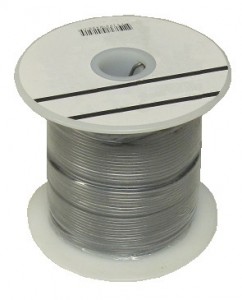 | | | |
| --- | --- | --- |
| Diameter | Length | Lbs |
| 3/4" | 24" | 4.4 |
| 1" | 24" | 7.7 |
| 1.25" | 24" | 12.0 |
| 1.5" | 24" | 17.3 |
| 1.75" | 24" | 23.6 |
| 2" | 24" | 30.8 |
| 2.25" | 24" | 39 |
| | | |
| --- | --- | --- |
| Diameter | Length | Lbs |
| 2.5" | 24" | 48 |
| 2.75" | 24" | 58 |
| 3" | 24" | 69 |
| 3.5" | 24" | 94 |
| 4" | 24" | 123 |
| 5" | 24" | 192 |
| 5.5" | 24" | 233 |

| | | | | | | | | | | | | |
| --- | --- | --- | --- | --- | --- | --- | --- | --- | --- | --- | --- | --- |
| Diameter | 3/32" | 1/8" | 5/32" | 3/16" | 7/32" | 1/4" | 5/16" | 3/8" | 7/16" | 1/2" | 5/8" | 3/4" |
| Decimal | .093" | .125" | .156 | .188" | .219" | .25" | .313" | .375" | .438" | .50" | .625" | .75" |
| Approx Feet/Lb | 30 | 16 | 10 | 8 | 5 | 4 | 2.75 | 1.75 | 1.5 | 1 | .68 | .48 |